One day in Baraitali of unearthly beauty behind all the popular fountains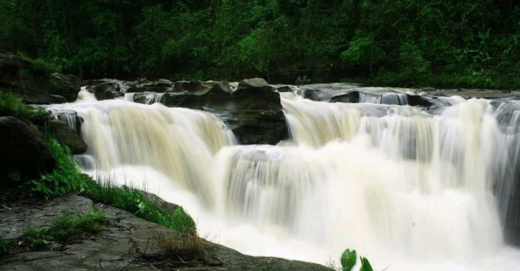 Many people visit Cox's Bazar or Bandarban in Bangladesh. These two spots are very popular with the tourists of the country. But there are many places around Cox's Bazar or Bandarban that are not very familiar to us. But in front of the beauty of these places, there is no ordinary tourist spot.
Today we will know about Khaiyachara, Napittachara, Damtua with lesser-known waterfalls than these famous waterfalls. This spring is located at Naikhyangchhari on the border of Cox's Bazar and Bandarban. You have to cross about 10 kilometers of road to get back from this waterfall. Our writing today is about this fountain.
If you want to go from Cox's Bazar, you can rent CNG or jeep and come to Naikhyangchhari. It takes about an hour to get here. Marine Drive or Ramu can come from any direction. It is easy to come here from Bandarban through Cox's Bazar. These two districts are separated by a small bridge. After crossing this bridge, the trail will start.
In the dry season, the CNG can go quite a bit inside but in the rainy season, you have to start walking from the main road. There is a shop on the side of the road and a Buddhist shrine. You can leave your belongings here. You can also change clothes here. You can buy bamboo for walking from here. Be sure to take dry food and water with you, otherwise, it will be very difficult to go so far.
First, go down a little bit then the straight road will continue to go up slowly. In this way, if you walk quite a bit, you will see Jhiri Path. If you want, you can take a tourist guide from here.
However, as Myanmar is very close to here, drug smugglers often use this road, so be careful. The phone network is not available once you go inside, so you can let someone know in advance because the danger does not come by announcing.
You can also walk along Jhiripath and you can walk along the dirt road. After a while, you will find a road quite bad. Excluding this road, you can take a detour through Jhiripath. Then the road straight for quite some time.
After a while, the rocky road will start. Rough, dry rocks have to be walked carefully. Otherwise, there is a possibility of slipping on wet feet or if you fall, there may be big injuries. In some places of Jhiripath, the flow of water is quite strong. Carefully cross these places.
It will take about one and a half to two hours to go. The closer you get to the main fountain, the bigger the waterfall will be. The combination of mountains and dense vegetation creates a dazzling beauty. There will be 3 small showers before the main shower. The space near the main fountain is quite small. It is not possible to stand more than 4-5 people at a time and the water pressure is also high. The water falling from above comes down with great speed. As such, the water pressure in the lower springs is less but the space is quite large.
The main waterfall comes down from a high hill. Reaching the main fountain from the fountains below is a bit of a difficult task. But the cool water of the shower forgets all the troubles. Many brave trekkers want to climb the main waterfall hill but it is a very risky job. It is better not to take this risk unless you need to.
It will take one and a half to two hours to return after seeing the fountain. However, it is less difficult to go on the way. Be sure to take care so that you can come back while the lights are on. When the light goes out, you will be in danger in this unknown place.
Baraitali is the ideal place for those who love adventure. A place to visit in one day. If you go to Cox's Bazar, you can increase your time by one day and come back here. When you go out in the morning, you can take a walk around Marine Drive on the way back.