Crossing the border, let's go to Gili Island of Indonesia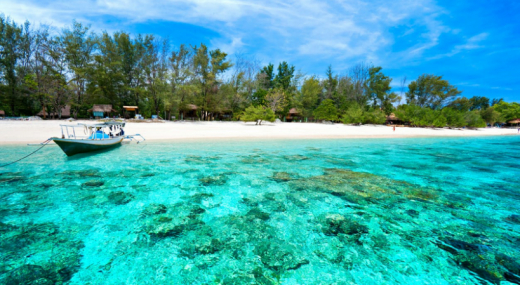 We are always busy and this busy life of ours is always running. Nothing stops despite fatigue or exhaustion. Sometimes you will realize that you want to get rid of the worn-out time for some time. Willingness to enjoy myself or find me. Traveling in a fresh and vibrant environment can give you this freedom.
A perfect journey will make you fresher and more vibrant. Gili Island in Indonesia is a place that is alive with the beauty of the natural environment. For a delightful trip and a fresh experience full of fascination, you need to visit Gili Island, Indonesia. It is a place in the world where there is nothing motorized, with no traffic noise. All in all, a great enjoyable tourist destination.
Gili Island is basically a combination of three islands - Gili Trawangan, Gili Meno, Gili Air which are located in the northwest of Indonesia. Jelly Island covers an area of about 15 square kilometers. Temperatures here range from 6 degrees Fahrenheit to 95 degrees.
Gili island looks like a drawing image. It is a great island for tourists. There are numerous bar shops and restaurants lined up on the beach. These venues are illuminated the night with a variety of DJ parties and live mind-blowing band songs.
The bars here serve extreme cocktails and often play with fire. The dancers show off their mesmerizing fire skills. The level of excitement of the general audience increases in many ways.
You can easily navigate the crystal-clear waters on Gili Island. It is one of the most famous landing places in the world for diving in the water. In this case, there are skilled workers to help tourists. Skilled workers are internationally recognized. The overall biodiversity of the deep country is like being overwhelmed while immersed in crystal clear water. It would seem that the creation of a perfect craftsman under the sea is another world. There are about 19 places to visit on Gili Island. Some of the popular places are SAARC Point, Manta Point, Bayonti Wreck.
If you want to see the view from the bottom of the sea very easily, you can put a kind of object like a tube in your mouth and it is very important to wear special clothes like a fish. If you do not have your own clothing, you can rent from local stores.
The waters of Gili Island are shallow in most places. Sea turtles can also travel with you as a bonus to see certain seasons. When you walk around the bottom of the ocean it feels like exploring a lot more in the blue water. This exploration never ends there.
It is especially exciting to enjoy the playground of Gili Surfing. Surfing scenes show a variety of water activities. Looking at this technique on the coral wall, it can be seen how easily people are managing this. You can also take part if you want. If you do not have your own surfing board, you can rent one.
Not only that, Jelly Island has some of the most interesting underwater human statues. Seeing this it seems that people lived here long ago. Although it has been created in special archeology.
Tourists spend more time on Trawangan Gili Island than any other Gili Island. There is a mysterious hill here. You will be able to discover many unusual things while climbing the mountain. The first thing you see is a mysterious house adjacent to a Muslim cemetery. You will then stumble upon a bunker in Japan that was destroyed in World War II. You will see that the destruction of the war was all over the world, not to mention the island of Gili.
After climbing to the top at the very end, your own tired body will be filled with joy in an instant. You can see the whole island from the top of the hill. The surrounding water, the beach, the border of the glorious Rinjani hills all combine to create an infinite beauty. And the time of sunset and sunrise is called the best time.
You can ride a horse for a trip or you can ride a special horse-drawn carriage called Sidomo in the local language. These are found all over the island. Two to four passengers can get up. You can also cycle around.
Why just go around, you can also learn to cook local food on holidays. On Trawangan Island, various classes are taken on cooking. Classes are held on a variety of salty foods ranging from confectionery which is very popular.
There are also special spa arrangements. All the fatigue of the body is instantly removed with the traditional message and the necessary oily element. There is no shortage of spar pairs here to make yourself fresh and lively.
How to get there:
First, you have to go to Lombok. Then you have to go to Senjiji by bus. After reaching there, you have to take a taxi to Bansal. After going to Bansal, you have to go to Gili Island by public boat.
Meals and accommodation:
There are numerous hotels around Gili Island to stay. The cost of food here is very low. Delicious food is available for only 1 to 7 USD
Notes:
Wear good clothing for diving.
Try to take a five to seven-day plan.
Even if you don't like it, try to wear loose clothing according to the weather.