Bangladesh Public Administration Training Centre
public Job
Job Type: Full-time
Salary: 22000 - 67000 tk. per month
Application Deadline: 2020-12-31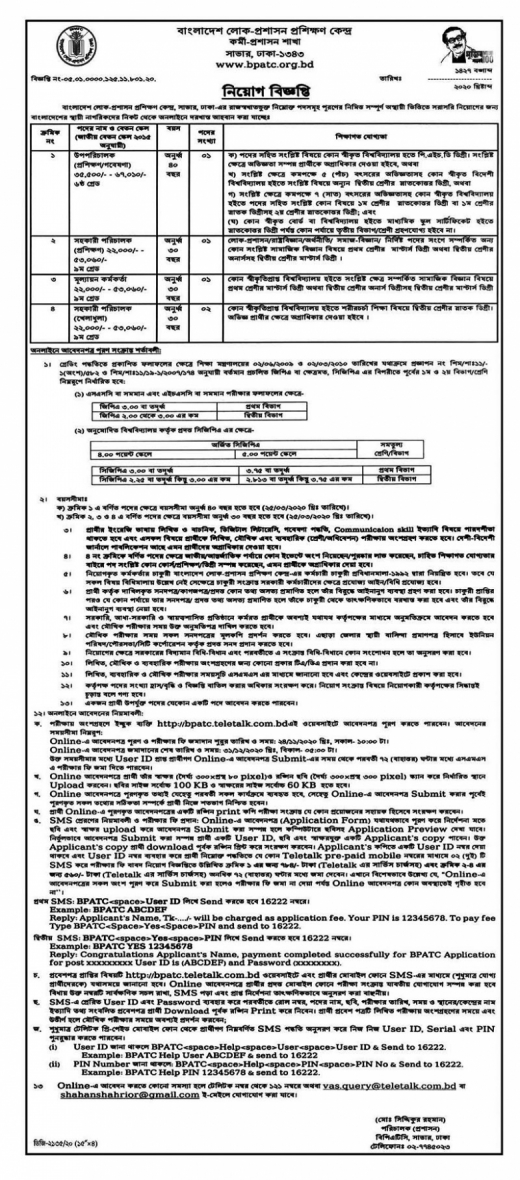 1. Applicant must be achieved mention result or higher according to education ministry (02/03/2009 and 02/03/2010)
| | |
| --- | --- |
| GPA 3.00 or higher | First class |
| GPA 2.25 to 3.00 | Second Class |
| | | |
| --- | --- | --- |
| In 4.00 scale | In 5.00 scale | |
| CGPA 3.00 or higher | 3.75 Or higher | First class |
| CGPA 2.25 – 3.00 | 2.813 to 3.75 | Second Class |
2. Age restriction:
For Deputy Director Age must be or lower till 25/03/2020 and for others age should be or lower till 25/03/2020.
3. Applicants should be fluent in English and sit on Selection, writing, Viva exam before getting this job. If the applicant have any journal then he/she will get than other.
4. For post an applicant will get more priority if he/she participant any national or international event.
5. For if an applicant have any certificate relevant to post or taken any will get priority.
6. After getting this job, Job holder should be guide by . If any of his/her mention document is proved wrong she/he should be temporary or permanently from this job.
7. If any applicant currently work in any government job or other job then he/she should be show the approval letter to sit on this exam from his/her currently working job.
8. You should show all of your original document in viva exam.
9. Applicant .
10. Authority can change anything of this job rule if they need.
should be fill up application from this website . Last date of application is 31/12/2020 5PM. No application will accept after this mention time. Scan copy . Information from this online from will be used in everywhere after submit so you should be recheck all of your information before submit to online. You may print a copy of your online application for your safety.
You can see a preview after complete your from and attached signature and photo. You will get an applicant copy after submit your information to online. There is a user ID to pay your bill and others staff. You can pay your bill from any tele-talk sim. Here is the process how you can pay your bill via tele-talk.
Go to your SMS option and write and send it to 16222. After that you will get a reply SMS with a number. Then type BPATC<space>YES<space>PIN and sent to .
For deputy director you need to pay , for post 2 to 4 of this photo you need to pay almost 560BDT. All of the Vat and others charge included here.
You will get a update SMS about your admit card and you can check this (BPATC.teletalk.com.bd) website to collect your admit card. You will be notify about your exam date and time also. If you face any issue in online application you may call 121(Teletalk only) or email on .